Crypto Dock Review
eventhou having been founded relatively recently, Crypto Dock quickly became one of the most popular cryptocurrency exchange platforms. Today, it offers futures, staking, fiat-to-crypto, crypto-to-crypto, token launch, and other financial services to its customers The company is based in Singapore. It accepts users
From hundreds of countries with the notable exception of the US. Crypto Dock centralized exchange offers over 100 currencies to choose from

What Мakes the crypto dock Platform special ?
A number of elements make Crypto Dock unique as a platform.
First to List Quality Coins at Crypto dock
The best thing about the platform is probably that it's always the first of the major exchanges to list quality coins. Before users can receive approval on higher-volume exchanges, they can become early adopters. If you're not based in Asia or Europe, CryptoDock is the go-to option for exotic coins. The exchanges available to users from other continents don't typically have so many coins to choose from.
Crypto dock Review- Products: What can You Trade on Crypto dock?
Few exchanges in the sector have as many crypto assets available for trading as Crypto-dock. The exchange is adding more and more coins over time. If you count the other assets, there are more than 300 you can choose from. This is a great deal considering the support for fiat currencies across the globe, which Crypto dock offers.
Your options are far from limited to spot markets. Crypto dock also lets customers trade a large number of futures. You can use margin trading with leverage or trade short or long positions and exchange cryptocurrencies directly with other vendors through the Crypto dock P2P trading desk. Payments in USD and other fiat currencies are accepted. The exchange's available investment products are evidence of its renown in the industry.
How User-Friendly is it?
CryptoDock is a good fit for beginners because there is a small learning curve and this allows novices to get their skills in no time. Signup is relatively easy. You simply go to the exchange's website and click on Sign up at the top right. Then, you choose a username and password and enter your email address. To set your password, you must use a combination of numbers and upper- and lower-case letters. You will receive an email after registering. You need to click on the link in the email to activate your account.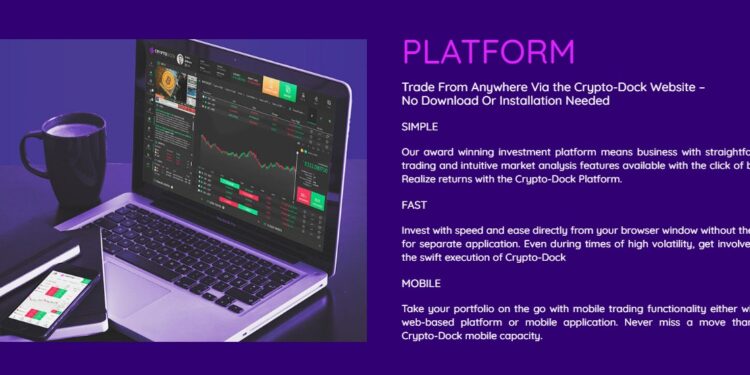 Safety Aspects
The exchange offers two-step verification, but doesn't make it mandatory. We urge you to activate this feature. Anonymous accounts are possible, but all transactions in BTC are tracked and logged. The platform's KYC has two levels: Basic Verification (KYC1) and Advanced Verification (KYC2). More benefits are available to traders who complete Advanced Verification, which is only natural. You will be asked to confirm your information and perhaps provide additional such.
Basic Verification
To complete Level 1 verification, you must click on "Start Verification" on the screen, then press enter. You'll be asked for some very basic information. Then, you click "Submit" and wait for them to approve your KYC1, which they'll do shortly.
Advanced Verification
After this happens, users proceed to level 2 verification for the extra perks. You need to click "Continue to Get More Benefits" and provide further details.
Margin Trading with CryptoDock
To enable margin trading with Crypto Dock, you click the "Trade" button in the menu on the main page, then enter the area after clicking "Margin". To open margin trading, click on the "Enable" button in the lower right hand corner. Crypto Dock offers leverage of 20x ( this might change but was the case at the moment of this review, check with them directly for more information at [email protected]) .
If you have one Bitcoin, you can borrow to increase it to 10. However, you need to have a principal sum in your account to do this. It's easy to transfer this sum to the margin account, which you can use to amplify your principal based on the existing amount.
Margin Trading Restrictions
Margin trading cannot be enabled in restricted countries and regions, even if the respective user has undergone KYC. The same goes for IP addresses in restricted countries and regions. Margin trading isn't accessible to users who have been blacklisted by Crypto Dock.
Company Values of cryptodock
Their main priority is to be the most trusted brad in the industry. At Crypto-Dock make every decision from our clients questions. "Will this help us become the most trusted brand in the cryptocurrency world?" We believe the answer is "ABSOLUTELY!" Trust is the most important aspect between a consumer and any company. Crypto-Dock and its team want to be unique and we believe the only way to get there is through security, compliance, technology, customer support and more.
Crypto-Dock believes in KISS (Keep it super simple). Cryptocurrencies have a very powerful technology behind them however its benefits will not be accessible to consumers unless it is simplified. Crypto-Dock consistently works on making its trading platform simple to use and accessible to everyone so that each client using its platform can understand the world of cryptocurrencies in the simplest way possible.
Our values are based on clear communication between our clients and our representatives. We make sure to share information efficiently, improving collaboration and productivity. Our team of representatives are kind and practice active listening in order to solve any issue our clients may have in order to ensure dedication and perfection.
Crypto-Dock makes sure to hire representatives with positive energy who are optimistic about the future and determined to get there. We create happy hours at work in order to insure and retain positive energy for our representatives and most importantly our clients. We take care of each other and help one another grow. Only this way we can insure client satisfaction and great customer service.
Crypto-Dock and its team continuously learn and look for new ways to increase our knowledge. We believe every situation in life is an opportunity to learn especially when things get tough because that's when we get stronger. We are interested in learning more then being right. We value giving and receiving feedback and most importantly we learn from mentors around us.
Efficient and Affective Executions is something we make sure to accomplish. We complete our work swiftly not by working hard rather by working smart. We are dedicated to completing our tasks rather then chat about them. We prefer automated technology over hard manual work. Crypto-Dock focuses on the 20% that will get us 80% of the impact.
TRADE BTC & USDT vs EVERYTHING with CRYPTO-DOCK
Crypto-Dock offers a vast variety of assets to choose from. Crypto vs Crypto, Crypto vs USDT, Indices vs BTC, Commodities vs BTC, Indices vs USDT, Commodities vs USDT, Stocks vs USDT, Stocks vs BTC and best part is you can save your favorites.
Their Technology is capable of processing limitless orders per second, making Crypto-Dock one of the fastest platforms in the market today.
they have ​institutional​ ​liquidity​ ​feeds from leading exchanges on the​ ​crypto​ ​market.
Enjoy​ ​a​ ​generous​ ​margins​ ​with multiple of up to 1:20. Free​ ​market​ ​research,​ ​advanced charting,​ ​market​ analytics​ ​and​ ​order​ ​types.
Security of Funds and Personal Data
Their platform is completely web-based and technologically secured to the highest standard, so that on one hand, there are no downloads and you can access it from any network-ready device and on the other hand, you can be sure that your trading and account data are secured with the latest and constantly updated safety protocols.
Defeating Crypto Scams
Crypto scams are everywhere and there's no way to recover your coins if you're tricked. Crypto-Dock guides you on how to avoid these dangerous scams and stay safe.
Recap: Pros and Cons
Pros
Secure
Anonymous trading possible (with restrictions)
Supports a variety of cryptocurrencies
Many crypto assets to trade
You see your balance at all times
Stable and fair platform rates
Appealing prizes from trade competitions
Platform API accessible on mobile and web
Cons
Relatively low trading volume
Deposit Options are not very clear
Conclusion
Since CryptoDock is so simple to use, it works great for beginners as well as more experienced users. There are many ways to analyze pricing trends on this platform. Candlestick bars are just one of them.
this is a solid choice if you look to start trading cryptocurrencies
The Review
CryptoDock
Since CryptoDock is so simple to use, it works great for beginners as well as more experienced users. There are many ways to analyze pricing trends on this platform. Candlestick bars are just one of them. this is a solid choice if you look to start trading cryptocurrencies
PROS
Secure
Anonymous trading possible (with restrictions)
Supports a variety of cryptocurrencies
You see your balance at all times
Stable and fair platform rates
CONS
currently relatively low trading volume
Deposit Options are not very clear
Review Breakdown
security

0%

Trading platform

0%

Trading experience

0%

Trading conditions

0%

Customer Support

0%