Stockhome.io Review
Stockhome.io has been a newly established broker since 2021. stockhome has a headquarter in Saint Vincent and Grenadines. It is well-suited for stockhome to provide its Forex/CFD trading services to global clients.

Founded in 2021, stockhome is an online forex and CFD broker based in Saint Vincent and the Grenadines, Caribbean. It is an offshore broker in this jurisdiction and not regulated by any government agency.
As stockhome does not hold any license, trading here does pose a risk, and if something unexpected should happen to the Broker, there is no assurance that client money will be safe. Stockhome.io accepts clients from all over the world, excluding the United States of America, as clients from that jurisdiction fall under strict rules when trading.
From what we have seen, they take all measures and requirements seriously and comply to keep your money safe.
Features
Bonus offers
Segregated accounts
Affiliate program
Islamic accounts available
Stockhome Information
Apart from this, Broker offers Silver, Gold and Platinum Accounts. To successfully navigate your trading account, you also need to consider leverage and minimum deposit. Talking about leverage in general, the maximum leverage offered by stockhome is up to 1:300. Meanwhile, you can open an account with a starting capital of $250
There are three account types available at Stockhome.io:
Silver: Standard account requires a $250 minimum deposit with a minimum lot size of 0.01. Spreads are fixed. Clients have the option to use Expert Advisors, scalping, and hedging strategies as well as advanced tools such as trailing stop, pending orders, one-click trading and mobile trading, .
Gold: There is a minimum deposit of $25000 while the minimum stake size is 0.01 lots. Premium account offers multiple additional features to assist traders, including Expert Advisors, scalping, hedging, pending orders, trailing stop, one-click trading, mobile trading, and automated trading. The account is commission-free with fixed spreads.
Platinum: There is a $25000 minimum deposit requirement, and the minimum lot size is 0.01. Spreads are fixed for the Platinum account. Clients may enjoy features such as Expert Advisors, scalping and hedging capabilities, trailing stop, pending orders, one-click trading as well as mobile trading,
If you want to look for a more straightforward explanation regarding this BBroker's account type(s), take a look at the following chart:

Stockhome.ioFees
On the silver, account spreads start at three pips, and on the Gold, it begins at two pips and on one pip with the Premium account. Spreads for JPY pairs start at one pip or 0.01and 0.0001 for all other pairs.
CFD trades on other markets have no commission. Instead, they do wrap a spread around the market price of a particular instrument. this is how they earn their money which is the same as most other brokers
Instruments Traded at StockHome
Besides lots of currency pairs, Stockholm also offers some instruments you would like to trade, such as Forex and Gold & silver, for your best choice. Somehow, remember that different instrument has different trading conditions. In this case, you have to make sure that your strategy is well suited for the instrument you chose.
Traders with Stockhome.io are provided with a narrow range of tradeable financial instruments:
Currency pairs
metal spots; Gold and silver
equity indices
Indices
Stocks

Stockhome.io Payment Methods
Stockhome.io offers several fast funding and withdrawal options, including bank wire transfer, Cryptocurrencies and credit cards. Withdrawal times vary but generally take up to 24-hours after the request is confirmed for most payment methods, and Bank wire transfers and credit cards take up to 48 hours to be processed. Stockhome.io charges no deposit or withdrawal fees.
Traders can deposit funds via:
Wire transfer: Wire Transfer is the most commonly used payment method. Nearly all brokers in the world provide this method in their service. The reason is wire transfer is a traditional transfer between banks worldwide. So, this method is guaranteed for its safety. This helps traders who avoid third-party payments or don't have credit cards.
StockHome Trading Platforms
A trading platform is a tool where you can buy or trade an instrument with only some clicks on your device, anytime and anywhere you want. In addition, a price chart is also usually provided with some analytical tools to help you analyze the price movement, so you can increase your profitability by placing well-planned trades.
With this, stockhome offers you their trading platform
Stockhome.io offers its trading platform as the only trading platform. is a fully-featured trading software packed with interactive charting tools for advanced technical analysis on forex pairs. It is compatible with Microsoft Windows
StockHome io Unique Features
Live Market Prices: monitor all accounts balance and equity in real-time.
stockhome hasmobile versionsof the software that is available on iOS and Android systems.
Trading platforms are offered in multiple languages, which include English, German and Russian.
there are sentiment indicators incorporated in the trading platform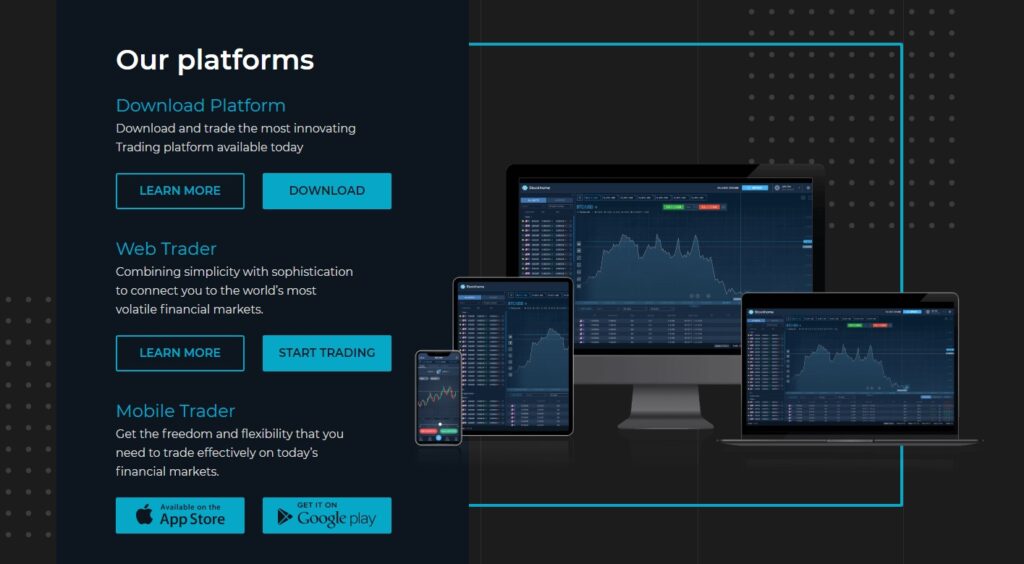 Conclusion
Stockhome.io offers global clients a 50% bonus on their first deposits at a minimum of $250 or more. there are more promotions, but I think fo the moment they mainly offer the deposit bonus –
overall this is, for now, a decent brokerage. Nothing that jumps out. Neither good nor bad. their trading platform is solid and execution time is fast, their spreads are respected, and trading conditions as a whole are average in the market. In short, try this Broker and let us know what you think to get a better opinion.
Can I try Stockhome.io before I buy?
Stockhome.io offers a demo account on request. Atleast we received it and you have to ask it from your account manager after you signed up. this can be opened before you deposit.
What funding methods do Stockhome.io accept?
T he funding methods of Stockhome.io are very basic , there are no webwallets etc. it is wiretransfer and credicards , only addition you have it the cryptocurrency , bitcoin. maybe in the future there will be more options but from what we saw this is it for the moment.
Is Stockhome.io safe?
Stockhome.io is safe because it has segregated accounts for the accounts of their clients and their accounts. They are using the latest technology for encryption and internet security.
How can I start trading with Stockhome.io ?
To start to trade with Stockhome.io, you need just to register. Once you have done this, an account manager will contact you about the process and what is required.
Is Stockhome.io trading Legit?
They are a company situated in St Vincent and the Grenadines where they are monitored and checked by their domestic regulation. This means they are not European or Australian regulated.
Is Stockhome.io trustworthy broker?
For the moment, the answer is Yes, as we have been in contact now a few times; they have been honest and transparent and focused on their clients as long term partners instead of the quick and fast money grab. This is an indication. Still, it is early to tell, but for the moment, Stockhome.io is legit
Is Stockhome.io a good broker?
Stockhome.io is a good broker - as a broker, they offer everything you a day trader needs except third party tools and software. their spreads are affordable and trading conditions are fair
Is Stockhome.io a market maker?
No Stockhome.io is not a market maker, they work as an STP Broker
Is my money safe with Stockhome.io ?
Your money should be safe with Stockhome.io. they have the proper security in place and are segregating every account from their trading accounts using only first-tier global banks
Does Stockhome.io have fees?
Yes, they have fees, but these are the spread they take when you open a position, the use of the trading platform is free. except for the inactivity fee that they have once an account has been fully dormant for three months
When was Stockhome.io founded?
Stockhome.io is a new brokerage and was launched on 2021
Can you make money with Stockhome.io ?
Making money and profit in trading forex depends more on the trader than the broker. If the broker is a scam, then, of course, this is different. Stockhome.io offers the trading platform the CFD's and tools to trade. If you know how to trade, then you will be able to make money using Stockhome.io
How long do Stockhome.io withdrawals take?
This depends on what way of depositing your funds to your trading account you have used. The funds will be paid out to the same payment method. this for AML reasons , so a wire transfer will take between 3-5 business day , the credit card a bit faster and Bitcoin will be the fastest
Does Stockhome.io offer CFD trading?
Yes Stockhome.io is offer trading in CFD's
Does Stockhome.io allow hedging?
Yes. Stockhome.io allows hedging and hedge trading strategies
Does Stockhome.io allow scalping?
Yes. Stockhome.io allows Scalping and scalpinh trading strategies
Does Stockhome.io offer negative balance protection?
yes. Yes. Stockhome.io offer negative balance protection so you are not able to loose money funds then your account holds.
Does Stockhome.io offer guaranteed stop loss?
Yes. Stockhome.io offers guaranteed stop loss. one of the most important features you as a trader need to manage your risk
Forex Risk Disclaimer
There is a very high degree of risk involved in trading securities. Concerning margin-based foreign exchange trading, off-exchange derivatives, and cryptocurrencies, there is considerable exposure to risk, including but not limited to leverage, creditworthiness, limited regulatory protection, and market volatility that may substantially affect the price or liquidity of a currency or related instrument. It should not be assumed that these products' methods, techniques, or indicators will be profitable or will not result in losses.
The Review
Stockhome.io Review
As we have covered in this review, the main features of Stockhome.io are enticing, making it a viable option for traders. The brokerage platform is exceptional they have a reliable support desk, and flexible deposits and withdrawals. Additionally, account types and functions support the need for all calibres of traders looking for a reliable broker.
PROS
innovating trading platform
all strategies allowed
Large asset index
demo and Islamic account
Multilingual
CONS
not regulated BY EU
No USA clients
Not MT4 or MT5
Limited deposit options
Review Breakdown
trading experience

Trading platforms

assets for trading

Security

customer support

Costs & Fees